O.MG! These are vegan, dairy-free, gluten-free and sinful! Besides, anything Mary likes is a double whammy win in my book! Just disregard how rich they are because, they taste like hey-I'm-just-gonna-have-one-more-or-two-or-what-the-heck-I'll-have-a-third-one-thank-you-very-much!
You want to double the amount you're making, right now. Trust me on that one.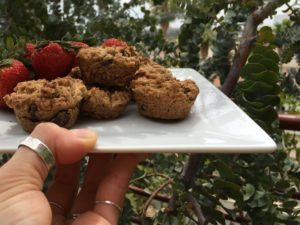 Ingredients:
1/2 c almond butter

1/4 c +3 TBSP maple syrup

3 TBSP melted coconut oil

1/2 tsp vanilla extract

1/2 c rolled oats

1/4 c +2 TBSP oat flour (Just grind this amount of rolled oats in a food processor or a coffee grinder. I own two of these )

1/4 c arrowroot powder

1/4 c almond flour

1/2 tsp baking soda

1/2 tsp salt

1/2 c chocolate chips
Instructions:
Preheat the oven to 350F
In a large bowl, stir together the first 4 wet ingredients until completely smooth
Add the dry ingredients into the wet mixture, one by one, until thoroughly combined
Add the chocolate chips (I am planning to experiment and substitute with raisins and spices to make oatmeal raisins, too!)
Add one TBSP to each cavity of a mini muffin silicone pan
Bake for 16 minutes for the balls to be gooey and dough-like inside, and barely baked on the outside – just enought to stick together
Let the whole pan cool for at least 10 minutes before popping them out gently.
I baked them in a mini-muffin silicone cups pan like this. This amount of batter filled 20 of the 24 cavities, at about 1 heaping TBSP of batter each.
They're about 135 calories a pop, but, yeah, whatever.
As inspired by Angela Liddon on Oh She Glows.