We are Costco fiends! Ever tried their Aussie bites? A sinful dessert disguised as a healthy snack… But you didn't fool us, M. Jelinek, ha! Ha! Ha! Here's a really simple, edited version – more energy, less fat and (way) less  sugar.
10 min to prepare, 12 to bake – All done in less than half an hour.
Ingredients:
1.5c rolled oats
2 TBSP sugar
2 TBSP chia seeds
1/4c ground flax
1/4c sunflower seeds
pinch salt
1/4 tsp baking soda
1/2c apple sauce
2 TBSP each coconut oil + coconut butter (or just oil)
dash vanilla extract
1/2c cooked quinoa (works well with millet, too)
1/2c unsweetened, shredded coconut
1/4c dried apricots, chopped
1/4c raisins (Works well with any dried fruits blend, really – today I used cranberries and blueberries)
Simple directions:
pre-heat oven at 350F
process one cup of oats until pulverized
add to a large bowl with all the other ingredients
mix well – by hand is the best
roll 1 TBSP worth of small balls, or stick that amount of dough in a mini muffin pan (x24, they fit 1 TBSP exactly!)
Bake for 12 minutes
Let cool for a few minutes
Voila! About 26 pefectly sized little snacks, at 90 cal a pop.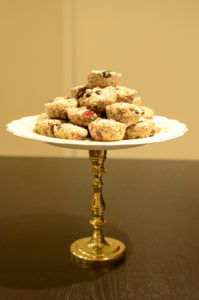 How about my awesome Goodwill $2.99 serving plate – made of (ahem) a plate glued to a candle holder? I can't get enough of it 🙂 I just need to keep making muffins… DARN!